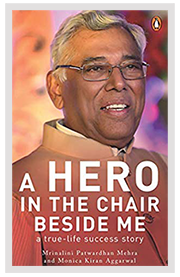 A Hero in the Chair beside me: a true-life success story
A riveting true story set in India, about a boy from a small town in the Indian state of Uttar Pradesh in the 50s, who wants to make it in the big city-Delhi. Born into a trader family with an established business and social standing, tragedy strikes in quick succession, for this child. With intimate views of the places and communities that the narrative touches, the reader walks with Girish as he relentlessly goes through life, solving each difficulty that confronts him and the family, to reach great heights. An inspiring "how to" tale for readers with dreams.
Place an order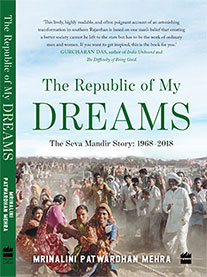 The Republic Of My Dreams
The story starts in India, in the erstwhile royal state of Mewar, Rajasthan, pre-independence India. A young aristocrat, revenue officer for the Maharana of Mewar, Dr Mohan Singh Mehta, is at a crossroad in his life after the death of his young wife. A poor farmer comes to condole with him, and says, "You are a man who can help us poor people….". And the seed of Sewa Mandir is sown. This book is a commemoration to fifty years of Sewa Mandir, a brave social experiment that showcases the human spirit and its capabilities.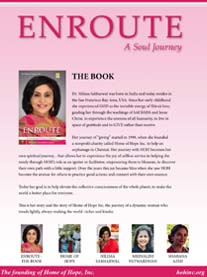 ENROUTE A Soul Journey
A biography of Dr Nilima Sabharwal, Founder, Home of Hope Inc.
A summary in her own words:
"Dr Nilima Sabharwal was born in India. And today she resides in the San Francisco Bay Area, USA. Since her early childhood she experienced God as the invisible energy of Shiva's love, guiding her through the teachings of Sai Baba and Jesus Christ, to experience the oneness of all humanity, to live in a space of gratitude and to give rather than receive.
Her journey of giving started in 1998 when she founded a non profit charity called Home of Hope Inc. to help an orphanage in Chennai. Her journey with HOH becomes her own spiritual journey…that allows her to experience the joy of selflessservice in helping theneedy through HOH's role as an igniter or facilitator, empowering them to blossom, to discover their own path with a little support. Over the years this joy became bliss when she saw HOH become the avenue for others to practice good actions and connect with their own essence.
Today her goal is to elevate the collective consciousness of the whole planet, to make the world a better place for everyone.
This is her story and the story of Home of Hope Inc, the journey of a dynamic woman who treads lightly, always making the world richer and kinder."
Place an order